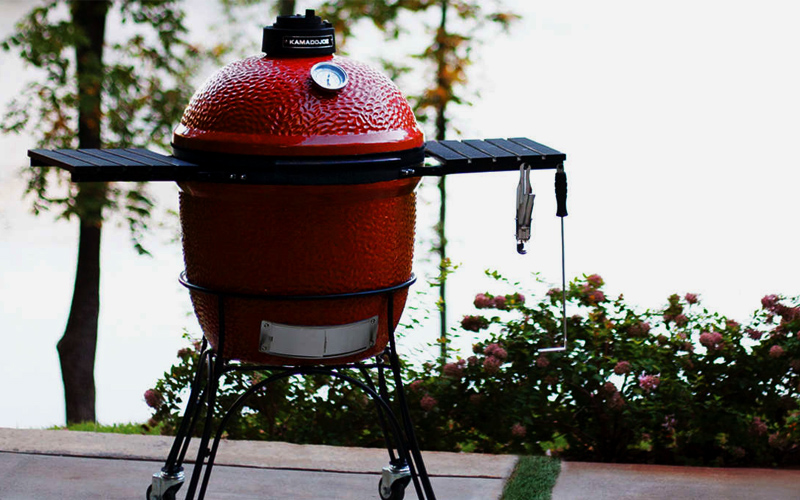 If some of the great weather we've had is any indication, spring will be in full swing before you know it! With the warmer weather comes the sound of laughter, the taste of cold drinks and the scent of barbecue. Start your Edmonton grilling season with an awesome Kamado Joe charcoal grill and be the envy of all your neighbours.
Make a Statement with Your Barbecue
With a Kamado Joe charcoal barbecue, you'll be the trendsetter of your neighbourhood. There is nothing better when it comes to grilling than going back to the age-old use of fire. Gas grills are great, but when you want the ultimate in barbecue flavour, genuine charcoal grilling is where it's at. Unlike typical charcoal grills, the Kamado Joe series makes lighting and temperature control easy as can be.
It Just Looks Awesome
Your premium charcoal ceramic cooker is all jazzed up in a hot shade of red and never fails to make a great conversation starter. With choices including smaller or standalone units to a full-sized cooker with a cast iron cart, two folding side shelves, a slide-out tray for easy ash cleanup and even utensil hangers, you'll love showing off your new Kamado Joe barbecue and you'll be grilling up a storm.
Versatility Like No Other
Want to sear off some great steaks? No problem. Love grilled fish or vegetables? Easy as can be. Want to try smoking a brisket low and slow? You can do that, too. Let's not forget wood-fired pizzas! Your Kamado Joe ceramic charcoal barbecue is designed to be highly versatile and comes with everything you need to grill, sear, smoke and wood fire like a pro.
In case you want even more options to improve your culinary prowess with your grill, the following are just a sample of available accessories you can add:
A rib rack so you can make perfect, fall-off-the-bone ribs for a small army
A chicken stand that you may or may not choose to use with a certain beverage for classic summer barbecued chicken
A regular pizza stone, deep dish pizza stone or a pizza peel so you can toss pizzas like a pro
A "JoeTisserie" for succulent and flavourful roasting
Divide and Conquer Cooking
Kamado Joe premium barbecue cookers feature a patented Divide & Conquer Flexible Cooking System that uses a half-rack, multi-level design so you can several items at once with varying temperatures and styles. There will be no more burnt offerings created from delicate vegetables while you're trying to get a perfect sear on your favourite cut of meat.
We could go on endlessly about the amazing features you'll find only in a Kamado Joe premium charcoal barbecue, but we'd rather you visit us and see it for yourself instead. We guarantee you a unique barbecue season that will make you the grilling legend of your Edmonton neighbourhood! Have questions about the Kamado Joe? Contact us and we will answer them!