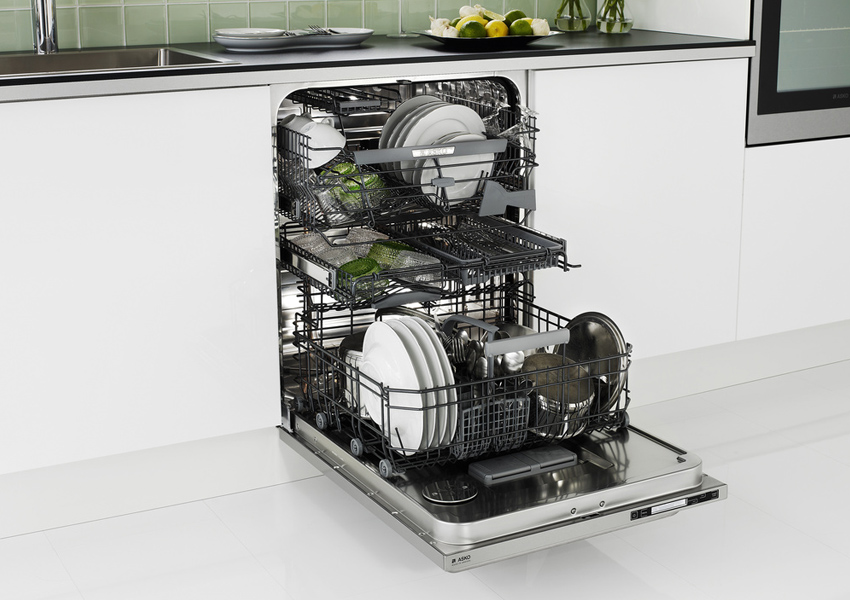 As you know, your Avenue Appliance team works hard to find you great products that are not only loaded with features for the money you spend, but also give you more of that valuable commodity we can't buy: time! This time around we're going to fill you in on incredible dishwashers for your Edmonton home that are so incredible that the only thing that would make them better is if they had arms to load and unload themselves. ASKO dishwashers give you dishes that shine bright like a diamond and give you more free time to spend.
Time-Saving Cleaning System
You know all that time you spend rinsing dishes and scrubbing pots, only to fill up your dishwasher with pre-cleaned dishes? We won't even talk about the money pouring down the drain with the amount of water this task takes. ASKO dishwashers have a time-saving super cleaning system that allows you to pack your dirtiest dishes without a second thought. Just imagine- if it takes fifteen minutes a day to rinse your dishes before loading your dishwasher, that's a whopping hour-and-a-half extra to your week! What would you do with that extra time?
SCS™ or Super Cleaning System
ASKO dishwashers eliminate the need for pre-rinsing and you never have to worry that your dishes are being "cleaned" in the swampy water from the pre-rinse. These dishwashers have a dual circulation system that means as it's blasting away food particles, it's draining at the same time! It does exactly what you do when you stand at the sink rinsing dishes while everyone else relaxes.
ASKO Dishwashers Make Size Matter
Another time-saving feature is the amazing capacity of these dishwashers. Say goodbye to having to hand wash pots and sheet pans, as well as spending a lot of time trying to puzzle your dishes just the right way to get them all into a regular dishwasher. Although ASKO dishwashers are a standard size on the outside, you'll be amazed by the large loading capacity of the interior.
If you're not having to hand wash your cookware and it takes less time to load the dishwasher, there's another half hour a day saved! That's two-and-a-half hours per week! Added to the time saved by not having to rinse, that's four extra hours weekly. You may not be able to add hours to your busy day, but you can certainly shave some off with ASKO dishwashers!
Don't just take our word for it- stop in to Avenue Appliance and see these incredible dishwashers from ASKO that will add shave some time off your busy Edmonton lifestyle. Need more information or want to get an ASKO dishwasher right away, contact us and we'll hook you up.