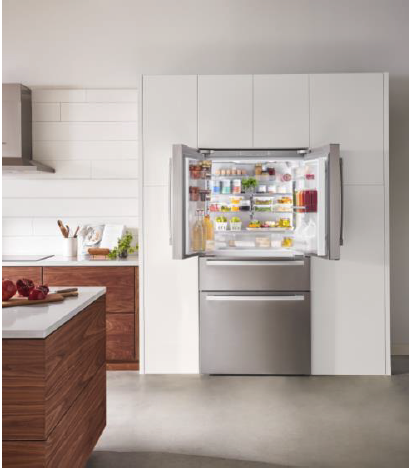 When it comes to luxury refrigeration, you have a wide array of options from top brands. Bosch is a leader in kitchen appliances which is especially evident in the new 800 series of Bosch refrigeration. With more customization options than ever, the 800 series is a perfect addition to your home kitchen. Contact us to learn more.
French Door Fridge with Bottom Mount
As part of the 800 series, this refrigerator has a stunning, sleek design with innovative features that can help keep your food fresher for longer. Some spotlighted features exclusive to new 800 series of Bosch refrigeration include:
FarmFresh System – Uses four freshness technologies to keep your food fresh for up to 3X longer, minimizing food waste
VitaFreshPro – Preset settings that can balance humidity and temperature together, creating the optimal environment for your food
FreshProtect– absorbs the naturally occurring chemicals produce gives off to slow the ripening process
MultiAirFlow– evenly circulates cool, fresh air so that the temperature is consistent throughout the entire fridge, door compartments included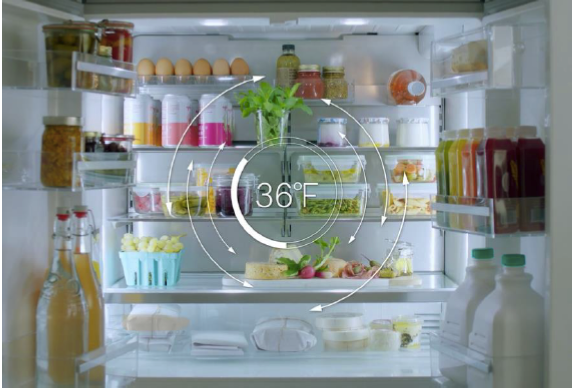 AirFresh Filter – keeps your fridge and freezer air fresh by absorbing even the most pungent food odors
UltraClarityPro Water Filter–removes >99.9% of sediments and harsh elements (such as chlorine) that may be found in your water
Home Connect – Remotely monitor/control fridge throughout the day from your smart phone
Easy-to-clean stainless steel
Dual evaporators and compressors – reduce odor transfer while controlling humidity and cooling
There are many model numbers available with the bottom mount (freezer), includingStainless Steel – B36CT81SNS https://avenueappliance.ca/bosch-36-800-series-french-door-bottom-mount-w-3-doors-pro-handle/,Stainless Steel with Extra Drawer – B36CL80ENS https://avenueappliance.ca/bosch-36-800-series-french-door-bottom-mount-w-4-doors-recessed-handle/, andBlack Stainless Steel – B36CT80SNB https://avenueappliance.ca/bosch-36-800-series-french-door-bottom-mount-w-3-doors-black-ss/.
French Door Fridge with Bottom Mount and Ice Machine
Though it is still considered the same product, this one is worth mentioning separately. The B26FT50SNS https://avenueappliance.ca/bosch-36-french-door-freestanding-w-display-water-dispenser-standard-depth/model has the bottom-mounted freezer and the French-door styling. You get a larger storage capacity with this model, as well.
The stainless steel is designed to resist smudging and cleans very easily. You also have MultiAirFlow, which is a patented cooling system that provides a more even temperature throughout. If that weren't enough, there is transparent storage so that you can easily see what is inside. Paired with LED lighting, you're sure to have a bright space in which to store your food. Plus, there is the ice maker. It has Quick Ice, which can speed up the process when you need extra ice fast.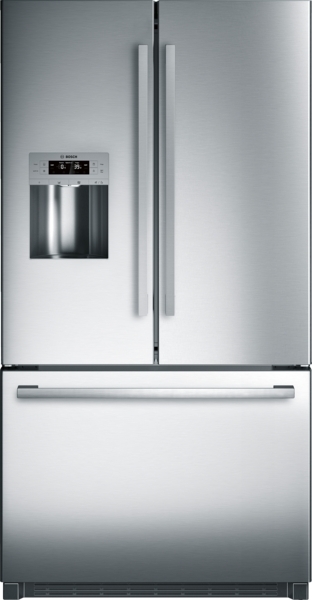 Bosch is Boss
Bosch refrigeration is synonymous with sleek designs, innovations, and technological advancements. It is no wonder that people choose the brand for their home. With the 800 series, you have the choice of style and configuration to suit your food and beverage needs. If you want to explore your options within Bosch refrigeration or see what we have in other brands, reach out to us. We're happy to help!