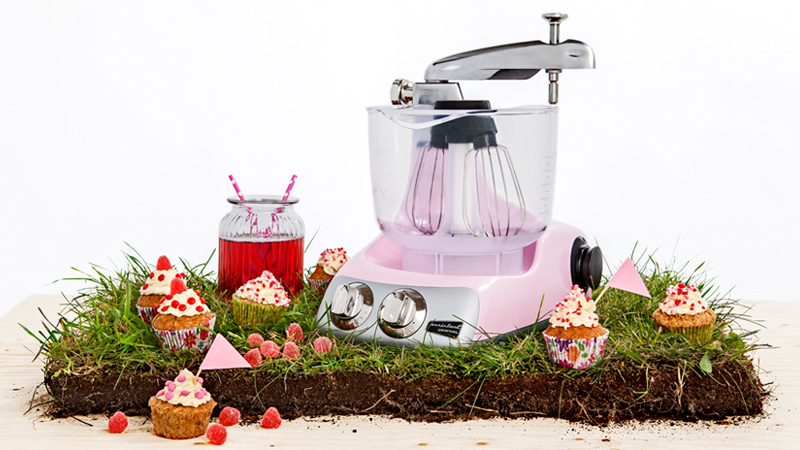 You may have noticed that we have been obsessed with adding colour to your kitchen this spring. We have been bringing you the info on some great kitchen appliances that will catapult your kitchen into the season, while simplifying your life so you have more time to enjoy the weather with your family. The Ankarsrum Assistent Mixer is not just aptly-named, it also comes in great colours that will help liven up your Edmonton kitchen for spring!
Extreme Power and Quality in a Small Footprint
One of the biggest problems home cooks face with powerful mixers is the amount of real estate they take up on the counter top. Normally you would have to sacrifice the space, or store the mixer somewhere else. If it isn't right on your counter, ready to use when needed, it doesn't get used enough. That cycle ends with the Ankarsrum Original Stand Mixer. This sleek machine's dimensions are just 14" x 10.5" x 15.75" but don't let its size fool you- this powerhouse can easily handle up to five kilograms of dough with ease!
Built from motor to attachment in one Swedish factory, the Ankarsrum was originally made in the 1940's when baking was a necessary component to feeding a large family. The mixers were built with durability in mind and although some extra features have been added over time, that same Swedish quality is found in each and every mixer made. These are kitchen appliances capable of producing almost anything you can think of for your Edmonton family.
Accessories for Countless Creations
Your Ankarsrum mixer comes standard with more attachments than its competitors. The basic package features:
Dough hook, beater, roller and whip
3.5 L and 7 L bowls for versatility
Spatula
Lid
If you prefer the deluxe upgrade, you can enjoy all of the above plus:
Blender
Citrus press
Meat grinder with 4 grinding disc sizes and sausage press
Cookie Press
Pasta discs
Grater
Berry press
The deluxe upgrade package turns your Ankarsrum stand mixer into a truly multi-functional kitchen assistant that is virtually unlimited in the things you can create.
Wide Choice of Colours
With nearly a dozen colours to choose from, including pearl pink, metallic red and pearl green as just a few examples, your hardest choice will be which colour you want to kick off spring in your kitchen. At Avenue Appliance we're not just obsessed with colour, we're obsessed with finding you quality kitchen appliances that will simplify your life and look great doing it! Stop in and see the Ankarsrum Assistent Mixer in our showroom or contact us for information on how to get yours today.