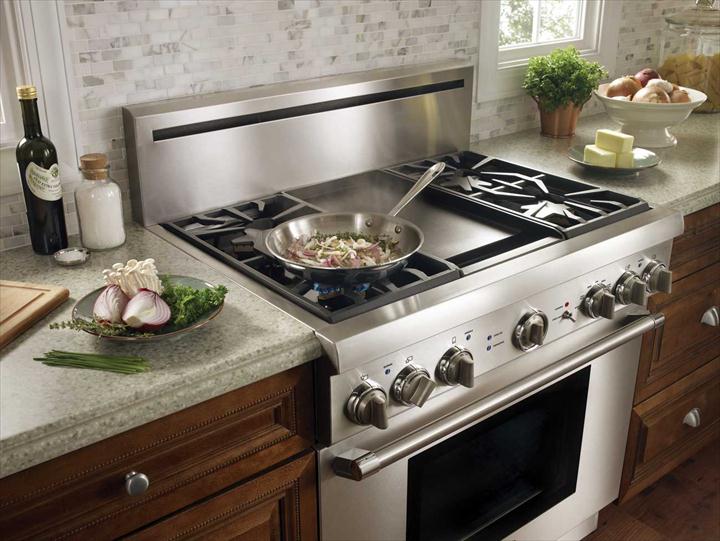 Just because it's time to move our activities back indoors doesn't mean you have to lose the great flavours of the outdoor grill. Thermador Appliances, available at Edmonton's favourite appliance store, is introducing a new grill cooktop in its latest "Professional" line. The new grill with ceramic briquettes and dual heating zones is designed to replicate the juicy, outdoor grill tastes of meat and vegetables inside your kitchen. We believe our customers are going to want to try out this latest Pro line from this exceptional appliance manufacturer.
Thermador Appliances' Pro Line Is Bold (And Elegant)
Whether you're a dashing cook, adding a pinch of this and a dash of that, or a more measured chef, you can establish yourself as a "pro" (at least in your own eyes and those of your family and friends) with a model from Thermador Appliances' latest line that brings bold, exciting new silhouettes to our Edmonton customers. Thermador's stand-alone ranges continue to offer the company's sleek, elegant stainless look while incorporating an "I mean business" look to its overall-all appearance, even to the design of its knobs and gauges.
As you've come to expect with Thermador, the ranges come in a variety of sizes to match your space and individual cooking needs.
Thermador Appliances Can Integrate Into Edmonton Kitchens
Thermador is also conscious of smaller spaces or customers who prefer to build their cooking appliances into their overall kitchen design. Thermador's individual Pro ovens and cooktops are designed with the same bold, business-like appearance, but can be stacked into a wall or placed in a kitchen island.
Naturally, this line brings the same exceptional performance to Thermador Appliances' Edmonton devotees as all their other products. We know many of our "professional" or near-professional home cooks will want to check out this latest Thermador Appliances' offering in our Edmonton store.
Dust off your chef's hat and be prepared to cook like a real pro with Thermador's Professional line. Drop by our Edmonton store to choose your own Thermador Appliances that will heat up your kitchen and fill your guests with awe (and your culinary masterpieces).