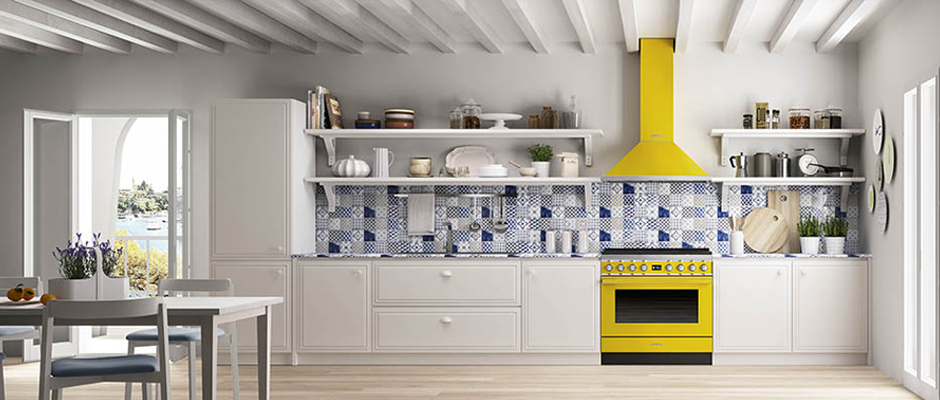 The saying "everything old is new again" is true with fashion, accessories, décor, and even kitchen appliances. In the case of appliances, retro styles and bold colors can take an ordinary kitchen and transform it into a home's central gathering place. Smeg appliances have been a "go to" resource for high-quality, retro appliances without sacrificing modern technology.
2018 Design Trends
Kitchen trends for 2018 include bold, retro colors like green, copper, yellow and blue—the more color—the better!
Architectural Design Magazine recently featured 25 retro kitchen designs with aqua and blue leading the way in appliances, wall color, backsplashes and even cabinets. Many featured retro appliances accompanied by modern design elements.
A Winning Combination: Technology Meets Design
Retro-style Smeg appliances have gained popularity over the last several years. They not only have great aesthetics and style, they also feature top technology and offer low energy options, providing be best of yesterday and today.
For cooking, the most desirable designers and manufacturers offer built-in ovens and double ovens, traditional ranges and cook tops in both gas and electric, in a variety of sizes to fit every kitchen regardless of space. Cook tops feature add-on elements like grills, flat tops and extra burners in "throw-back" colors like olive green, red and yellow. Smeg appliances offer an array of stainless steel built-in and over-the-range microwave ovens.
Retro refrigerators now offer adjustable shelves for height adjustment and removable for cleaning purposes. Some companies such as Smeg appliances offer up to 10 different colors to complement the color palette of your kitchen.
While the dishwashers of the 1950's were typically the lady of the house, today's models make life easy coming in attractive designs to fit just about any kitchen motif. They feature adjustable baskets, a variety of load capacities and SMEG's Water Leak protection that automatically shut's off the water if it detects a leaf. Best of all the dishwashers are so quiet, you may forget when it's in wash mode.

Top of the Line

In addition to line of retro Smeg appliances, Avenue Appliances store has been providing top-of-the-line, high-performance appliances from European and North American manufacturers since 1970.

If you're looking for quality Smeg appliances to give your kitchen that unique "wow" factor, contact us today.