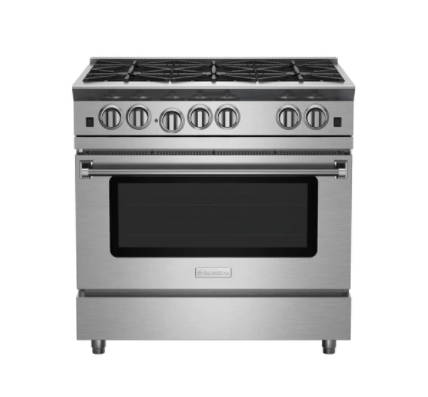 Do you love being able to customize a room to fit your unique style? How about customizing appliances that you will probably use all the time? Does it sound like a dream?! With BlueStar ranges, dreams become a reality. Visit us today to see a sample of the customization options available to you.
Exhibit A: Your Preferences on Display
BlueStar ranges bring the gourmet to your kitchen! How do they do it? By turning your requests into a unique and functional work of art. What do you envision for your BlueStar range? Here are some of the custom options BlueStar brings to the table, or perhaps more aptly, to your kitchen!
Your choice of cooktop configurations
More than 750 colour choices and an option to introduce your favourite custom colour to your BlueStar range exterior
You pick the metal and colour for the knobs and trim
A selection of door styles from chef-favoured French doors to the classic drop-down
Detailing your Design
Not every chef uses the exact same features on a range as other culinary artist. What is the specialty dish that you like to serve more than others? BlueStar ranges can customize your range top with:
French tops
Charbroilers
Griddles
Movable Griddle/Charbroiler System 
Your preference is what matters with BlueStar ranges! 
If you have a smaller kitchen space, BlueStar ranges can still keep your style vision in full view with sizes starting at 24 inches in width. For larger kitchens, BlueStar offers ranges extending to 60 inches! Not only do they bring functionality, but BlueStar ranges can create an arresting focal point for any kitchen! 
To add even more style to your inner kitchen sanctum, BlueStar brings you the option to choose the metal you want your trim to be. They offer selections in:
Stainless steel 
Copper
Brass
Pewter
Antique Copper
Antique Brass
What will you choose?!
Exhibit B: Serious Home Chef Cred
Restaurant-quality fine dining is possible because of BlueStar ranges attention to detail. If you want to bring yourself and your loved ones delicious offerings that delight your tastebuds, BlueStar makes it possible with features like these:
Premium burners that deliver concentrated heat to the intensity of 25000 BTU
Handcrafted stainless steel constructed appliances that provide scrumptious offerings over and over again
Super-sized convection ovens that can hold full-size sheet pans that serious bakers love
Temperature control for morsels that need to be gently heated using a gentle simmer burner
If you want to earn cooking points from your most difficult critics (often your family and friends) BlueStar ranges can tip the scales in your favour. How? By using the ideal mix of style, convenience, and quality craftsmanship to cater to your need for impressing your houseguests and your tastebuds! 
BlueStar Ranges Make the Best Better
BlueStar ranges use premium commercial materials, the most current advances in technology, and BlueStar has been creating premium products since the 1880s. Now BlueStar is seeking ways to complement your kitchen and your lifestyle by letting you design your vision. Visit us today to start designing your ideal BlueStar kitchen.