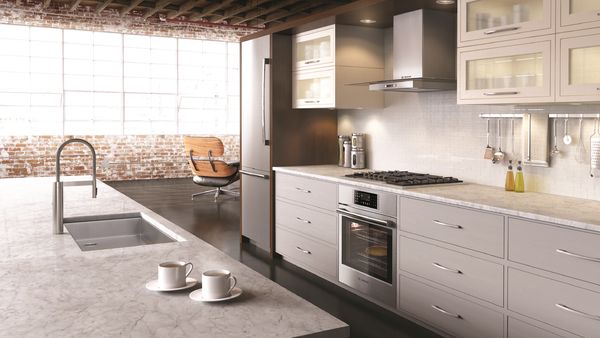 When it comes to home improvements, there is no better place to focus your efforts than the kitchen. In fact, homeowners can get an outstanding return on their investment when they choose to improve the look and function of the kitchen. One of the best ways that a homeowner can update their kitchen is to replace the kitchen appliances. Here are the must have kitchen appliances you need to update in your home:
Update Your Refrigerator
One of the appliances you should focus on when updating your kitchen is the refrigerator. Most people don't focus much on the refrigerator, as it is, to most of us, simply a place to keep our food cold. However, the refrigerator could be one of the most important objects in your home, especially when you consider that it keeps our food safe to eat and slows the process of spoilage. In the long term, this helps to save money and time.
When you are looking for a refrigerator, there are some things you want to consider. For instance consider the size of the refrigerator and your cabinet opening. You don't want to run out of space, or, alternatively, not have enough space. A minor adjustment to your current cabinet may be all you need to accommodate a larger fridge. All brands featured at Avenue Appliance are counter depth saving you space in your kitchen. Finally, you want to make sure that you are purchasing an energy-efficient refrigerator. There are many options out there and refrigerators are getting more energy efficient all of the time.
Replace Your Cooking Appliances
Ranges, wall-ovens, and cooktops are used almost daily, so it's important that when you make the decision to update your appliances that you consider replacing these key pieces. Again, there are many premium options out there, including Fulgor Milano, BlueStar, Miele, Thermador, and Bosch.
When making your decision there can be an overwhelming number of options for you to choose from. Our appliance specialists can help you figure out which brands will be best for your space, cooking style, and budget.
Trade in Your Old Dishwasher
You should also consider trading in your old dishwasher or adding a dishwasher if your home is currently not equipped with one. Dishwashers are now almost a necessity for many households, especially for large families or for people who like to entertain.
When choosing a dishwasher, it is important to make sure the cleaning power is top notch, and if you really want to add a good amount of value, you should choose a sought-after brand such as Miele, Bosch, Asko, or Blomberg. All dishwashers featured at Avenue Appliance are energy-efficient helping you to save money on your energy costs.
Put A Coffee Machine in Your Wall
If a warm cup of fresh brewed coffee is part of your morning routine , then adding a Thermador or Miele coffee machine integrated into your wall is a dream come true. These built-in coffee machines allow you to seamlessly integrate them into the wall saving you precious counter space in your kitchen. Along with the space saving benefits and high quality finish, adding a built-in coffee machine into your kitchen will give you that touch of luxury everyone desires to have in your home.
Change Your Kitchen for the Better
Whether it's your fridge, range, cooktop and wall-oven, or dishwasher, updating appliances in your kitchen is a great way to make your home feel like new again.
If you are ready to update your home with the latest kitchen appliances, make sure to check out the selection at Avenue Appliance in Edmonton. There is a full range of refrigerators, dishwashers, ovens, and stoves to choose from.