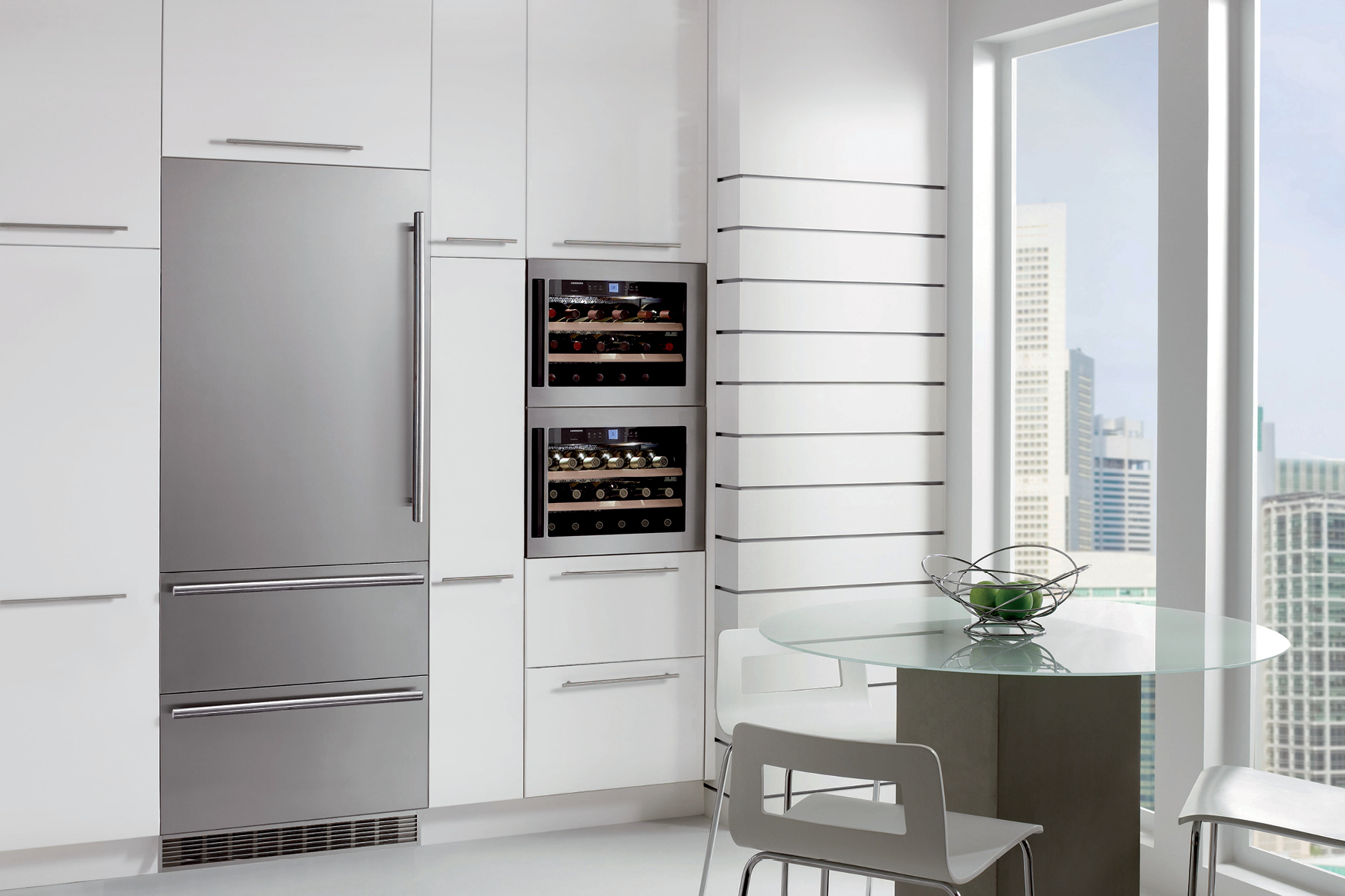 When designing your kitchen, you need to look at each appliance as a design element that will enhance the total look of your kitchen. Sometimes you may choose an appliance that makes a statement of its own, other times you may want to integrate your appliances, such as your refrigerator, so they are part of the total look. Liebherr appliances offer a wide range of free-standing, built-in and integrated refrigeration options to fit with just about any kitchen décor.
Integrated Versus Built-in-Refrigerators
There seems to be some confusion about the difference between built-in and integrated refrigerators. Built-in refrigerators are secured to the surrounding cabinetry, but handles, doors and other hardware will stick out, they will not be an identical match to your cabinets.
Integrated refrigerators, such as those by Liebherr appliances, have doors and handles that are flush with the cabinetry. They are covered in custom panels making them an "integrated" part of the kitchen and often nearly unrecognizable from the other cabinetry in the kitchen. They blend in with their surroundings offering a seamless kitchen design.
Benefits Liebherr Appliances
A Liebherr appliance is far more than just a pretty exterior. Their refrigerators offer a wide range of innovative interior elements. Liebherr refrigerators and freezers are known for their high-quality, energy-efficient technologies.
Some popular features include:
The No Frost system, which uses circulating air to protect frozen food from frosting and getting freezer burn. This system also alleviates the need for defrosting.
Liebherr appliances' patented BioFresh technology keeps food fresh nearly three times longer than other refrigerators.
Bottle racks offer flexibility and the ability to store bottles neatly within a compact space.
Divisible glass shelves make it easy to adjust the height of the shelves, making it easy to accommodate oversized, tall containers.
Premium glass door shelves offer extra storage for condiments and smaller items.
Vario space is an innovative concept created by Liebherr that enable drawers and glass shelves to be removed for storing over-sized items. Imagine a wedding cake fitting in your home refrigerator!
Liebherr appliances offer energy-efficient, LED lighting in their refrigerators offering long-lasting, bright lighting from top and sides.
Why Liebherr Appliances
There are a lot of choices when it comes to appliances for your kitchen from design to functionality. Liebherr appliances have been leading the way in state-of-the-art refrigerators for over 50-years. Their refrigeration units feature compressor systems that are at the bottom and back of the unit, making them nearly silent. These German manufactured appliances feature innovative, cooling technology and designs guaranteed to improve your kitchen.
Contact us today, to enhance your kitchen with Liebherr appliances' unique designs and innovative refrigeration options.