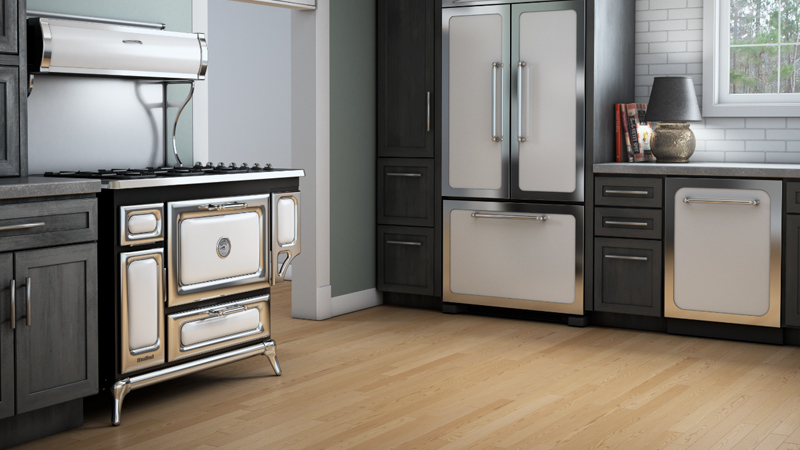 With its retro-styling, glossy porcelain and gleaming plated nickel, your Heartland stove is a work of art. In fact, despite the amazing technology packed into Heartland appliances, you probably added your range to your Edmonton kitchen because you fell in love with its looks. We can definitely relate so we thought we would give you with a guide to keeping your Heartland stove looking as good as new.
Maintaining the Beauty of Heartland Appliances
Heartland appliances are built to withstand even the busiest of Edmonton kitchens but there are some things you can do to ensure your range keeps its showroom looks. Painted enamel and porcelain are pretty tough but these are glass surfaces and need to be treated as such so they retain their flawless, polished surface:
Avoid dropping, dragging or banging heavy objects against the surfaces of your stove.
Sudden, extreme changes in temperature may cause cracks or breakage.
For cleaning, opt for a soft cloth with warm water and mild soap, glass cleaner or non-abrasive cleanser. Never use steel wool, abrasive cleansers or powders.
Acids can mar the surface so wipe up spills of acidic foods as soon as possible to avoid staining.
To keep the nickel plated trim work looking beautiful on your Heartland appliances, you can:
Use a soft cloth without any type of abrasive cleanser.
For deeper cleaning and polishing, use a Heartland appliances approved cleaner such as Cerama Bryte, Flitz Nickel Cleaner, Autosol and Pierre D'Argent.
Wipe up acidic foods or liquids immediately to prevent staining.
Here's how you can keep your surface burners clean and manage boil over cleanup:
When cleaning your stove top, simply wipe the heads of the burners for every day care.
If you have a boil over, just remove the burner cap and use hot, soapy water with a soft brush to clean out the port holes. To make this easier, there are no bolts or screws to loosen or remove.
For heavy duty cleaning jobs, scrub with a cleaner made for tubs and tiles. Be sure to use a non-abrasive type and use a soft brush to remove any buildup from oils, spills, etc. Rinse using a clean, soft cloth and be sure to wipe up any excess water left over.
See how easy it is to retain your beautiful showroom finish on your Heartland appliances? It really is that simple, but if you want to find out more for yourself, our team at Avenue Appliance will be happy to help you. Contact us today to learn more about Heartland appliances and to get your own retro-style appliances for your Edmonton kitchen.