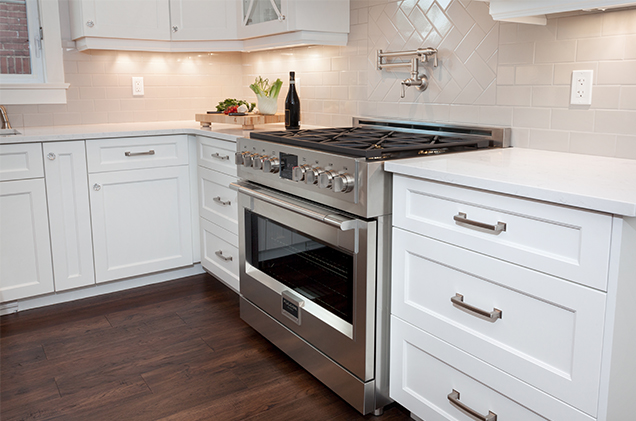 Fulgor Milano recently presented his new professional range series called Accento at the KBIS in Las Vegas. It was inspired by a more traditional and professional styling. Therefore, this professional range includes the classic bullnose design you're used to with an elegant and strong knob control. This bullnose will allow the handcrafted range to become the ideal replacement range and add style and flair to any location. Of course, you are sure to know Fulgor Milano appliances, as they are high-end and quite popular. Visit our showroom today!
Features
You'll first note the cast iron grids, which have been newly designed to be safer and offer more support to the surface. However, it also focuses on providing optimal thermal dynamics and a more professional performance.
The porcelain burner is matte black and made in one piece. Therefore, you'll find it easier and seamless to clean. Plus, the black color perfectly complements the burner caps and grates.
Color Options
When it comes to Fulgor Milano appliances, you know you need the best. The Accento range series stands out in the kitchen because of the many color kits available. That way, you can customize the range to meet your specific needs. Plus, you can find variations of colors for more expressiveness.
It has never been easier to add an 'accent' of color than with the unique color system from the brand. However, this is only available for the Accento range. You'll find that the color kits feature a matching toe kick, door, and control panel trim. This means that there are endless possibilities because you can mix and match them.
We believe that this is one of the most beautiful ranges on the market. With such attention to detail, there is no question that the Accento range could be on the red carpet. You'll find that the grates and handles are beautifully sculpted. Plus, the lines from bottom to top are all symmetrical. Nothing was overlooked with this product.
36-inch All-gas Range
Though there are multiple products in the Accento line, we wanted to take a more in-depth look at the 36-inch all-gas version. It was inspired by the professional ranges in commercial kitchens, but it is a standard size that will fit in almost any home.
You'll find that it comes in a stainless steel finish. That means it will be easy to clean and won't easily stain. There are multiple colors available, though most people do prefer the shine of the steel. It is possible to choose black velvet, matte white, and Venetian red, as well.
Of course, just looking at this range makes you want to salivate when you think of everything it can cook. It comes with three Crescendo burners, as well as three high-powered and sealed burners. Its oven has a generous amount of space with 5.7 cubic feet. Plus, there is a bake burner and dual convection.
Add Fulgor Milano Luxury to Your Home
If you are interested in a new range that has everything you need, then this is the one for you. All Fulgor Milano appliances are designed to be high-end and luxurious. One use of this range will show you why. Come visit us today!