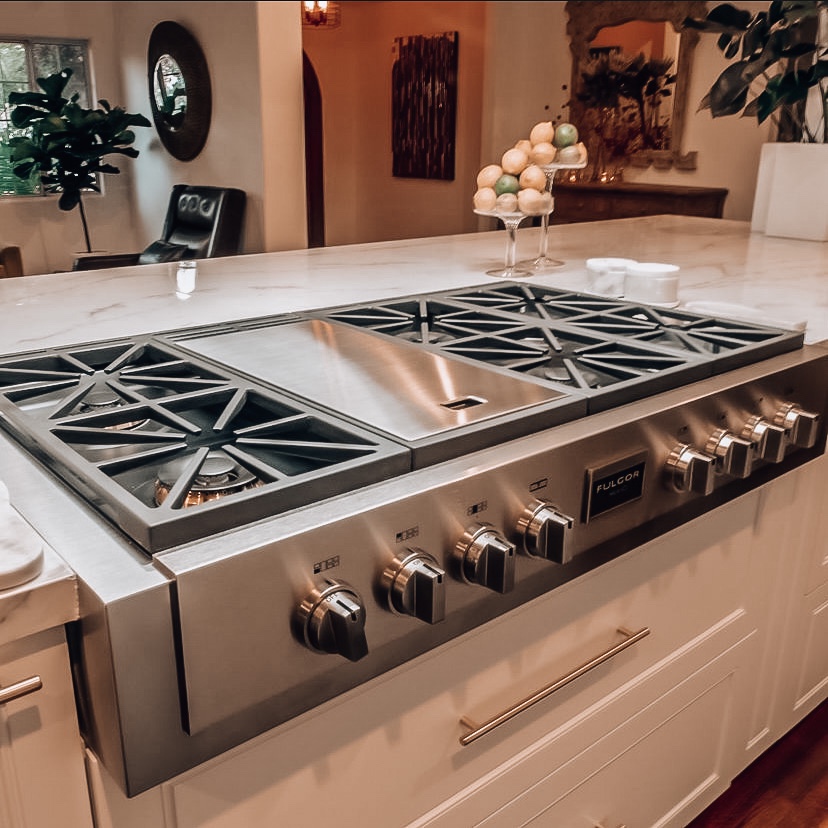 Allow Me to Introduce Myself
With a high level of performance that speaks for itself, a Fulgor Milano range top needs no introduction! But for those who have never seen or used the unique induction version, we will concede the need to elaborate. What do Fulgor Milano range tops mean for those seeking a way to improve their performance in the kitchen? Quite a lot! Visit us today to see our Fulgor Milano line up for yourself.
The Control is Heating Up
The Fulgor Milano induction range tops offer chefs the ability to finish their dishes with finesse. How? They feature:
Digital Controls
Ceramic glass surfaces simplify the cleaning process.
Burner with a power boost
Heat sensor that detects residual heat (ensuring you don't overcook your food)
A system that detects the presence of pots on the heating surface
Safety features like the child lock to ensure curiosity doesn't cause harmful consequences
Power-on indicators
And more!
Chefs that appreciate the ability to experiment with temperature controls to create unique dishes love Fulgor Milano range tops! If you want to refine your menu and turn up the heat fast, an induction range top is a must-have!
Energy Efficient Energizes Chefs
While the sleek look of Fulgor Milano range tops never ceases to please cooks who love cool stainless steel and space-saving, the energy efficiency is another perk! The heating process of induction is unique because it allows chefs to quicken or slow the heat transfer process. When something takes longer to heat, more energy is needed. A glass-ceramic surface ensures precise heat transfer. It's more economical and more controlled.
If you love to let things simmer - emotions, food, a great idea - you'll appreciate Fulgor Milano range tops. Underneath their glass-ceramic surfaces are the key to quality control. An electromagnetic pulse below the glass delivers heat to the magnetic cookware placed above. This transfer process allows melting and simmering techniques to flourish and finesse your fine dining experience!
Finessing Your Final Selection
Well-made and designed induction range tops are resilient and offer a reliable heat source for new and seasoned chefs to test their skills on. But while induction is for some, it may not be for you! If you enjoy utilizing the benefits that range tops with gas offer you, Fulgor Milano gas range tops are available too! With the same access to professionally styled dials/knobs and the durable stainless-steel construct, your kitchen will quickly become the favourite hot spot for chefs and guests alike! Your preferences matter to people who appreciate the unique perspective you bring to the kitchen!
Carrying the Torch
Whether you prefer great heavy-duty continuous "grate" surfaces or practically magnetic glass-ceramic surfaces, Fulgor Milano range tops can fulfill the desire of your foodie heart. Contact Avenue Appliance, your local Fulgor Milano range top carrier, today and let them introduce you to appliances that always perform at the highest level!