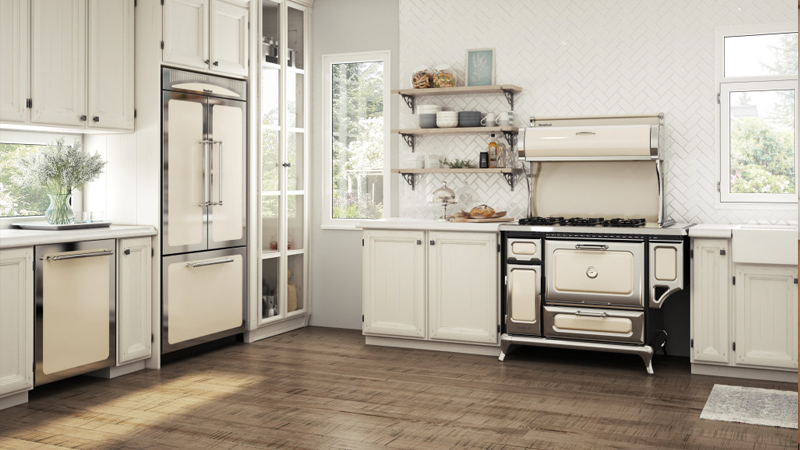 When was the last time you sat back and took a good look around your kitchen and admired your appliances? We mean really admired them and smiled to yourself as you thought of how great they were and how much easier they made your life? We're pretty sure the chances are good that most of you haven't. That's okay because we're going to wow you with the perks of having Heartland appliances in your kitchen. We guarantee that once you learn about them, you'll be picturing them in your Edmonton home and choosing your favourite colours!
Turn Your Kitchen into a Showpiece
Looks aren't everything, but who says appliances have to be the boring and bland? Heartland has really stepped up the kitchen style game by creating appliances that are gorgeous to look at. Sophisticated and sleek retro-style ranges with all of the fine details that make them look like pieces of art rather than just a regular stove. If you're adventurous and want to add some great colour to your Edmonton kitchen, they are available in white or almond, but why not consider teal, green, blue, black or yellow? Have a little fun and add some whimsy to your kitchen.
Features That Make You Go "Wow!"
Heartland appliances are beautiful to look at but they are absolutely packed with incredible features. These are full-on cooking centers that will improve your life and make people who hate cooking want to play with their new appliances! Just a few of these features include things like:
Dual fuel options with extra-large, powerful burners
Convection oven available in the 48" models so you can cook more and faster than traditional ovens
Warming drawer with massive capacity that includes a humidity control so you can keep warmed foods crispy or moist (also great for proofing dough and warming bread!)
Storage so you can keep utensils and your most-used pots and pans close at hand
Hidden digital controls so only you know how high-tech they really are
We could go on, but we're pretty sure you get the idea!
Matching Appliances for Your Entire Kitchen
What good is an incredibly great-looking cooking center if you have to settle for a humdrum fridge or dishwasher? Exactly. The beautiful retro-styling with nickel plated trim and elegantly-shaped handles and legs are perfectly matched in Heartland refrigerators and dishwashers so you have a full suite that look awesome and are loaded with great features.
Are you picking out your colours yet? If you'd like to see Heartland appliances in Edmonton for yourself, our showroom at Avenue Appliance is the place to go! Contact us today because we can't wait to show you how great these appliances are!